Austin Face & Body offers a wide variety of treatments to help get your body to where you want it to be. Our goal is to help you look and feel your best, with your safety and wellbeing always in mind.
Even more to offer
Along with the other body procedures offered at Austin Face & Body, there are even more treatments available that can address other areas of concern. Whether you're looking for that 6-pack you've always wanted, beautifully-contoured legs, or you want to get rid of your bat wings, we have you covered.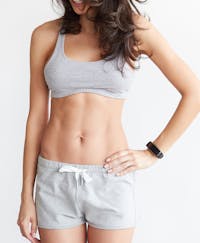 Abdominal etching
With abdominal etching, or "6-pack liposuction", patients can surgically get the sculpted abs that they may not be able to achieve by working out. Abdominal etching has the ability to make the abs look more chiseled and well-defined by uncovering the existing abdominal lines that have been buried by fat cells. The procedure is very similar to traditional liposuction, removing localized fat from the abdomen of a patient who already has abdominal muscles. This is an ideal treatment for individuals who are athletic or work out regularly and are near their ideal body weight. If you've been working on your abs for a long time with no progress, abdominal etching may be the ideal procedure for you.
Thigh lift
Being unhappy with your thighs can be a problem. It can keep you from wearing shorts, skirts, dresses, or bathing suits. Disliking your thighs can bring your self-esteem way down and impact your quality of life. This is why we offer thigh lift procedures for those with excess skin on their thighs. A thigh lift will correct the flabby or dimpled skin on the thighs that can result from pregnancy, aging, previous procedures, or excessive weight loss. The outcome is firmer, smoother, beautifully contoured thighs that improve the overall appearance of the legs and give balance to your entire body.
Body contouring after weight loss
If you've lost a lot of weight, congratulations! Give yourself a pat on the back. But if you've lost a significant amount and you're now left with a lot of excess skin, you may be wondering what to do about it. At Austin Face & Body, we offer a variety of different procedures to address lax skin from weight loss. We utilize both surgical and non-surgical options to get the best results for each specific patient. If you have loose skin due to weight loss and want to remove it, please schedule a consultation with us and we will discuss the right treatment plan for you.
Arm lift
If you're tired of hiding your arms inside sleeves, arm lift surgery (brachioplasty) may be what you need. This surgery addresses the problem of excess skin under the arms, from the armpit to the elbow, and improves the appearance of the arms to be firmer and slimmer. This is an especially effective treatment for individuals who have tried many different types of exercise, with no luck. An arm lift reduces the skin that sags when the arm is raised, tightens the structural arm tissue, and smooths the contour of the upper arm. An arm lift results in a much more toned appearance, and allows patients to feel confident wearing whatever they want.
Schedule a
consultation with us
To learn more about our body procedures and what we can do for you, please schedule a consultation with us Austin Face & Body. Our aesthetic plastic surgery practice brings together top surgeons from all over the country under one roof to deliver quality and expertise to our patients of Austin, Texas. We provide the highest level of patient care, combining an outstanding team of oculofacial plastic surgeons, full body and women's health plastic surgeons, and rhinoplasty and face lift surgeons who offer the absolute best service and results. From consultation to post-care follow-ups, you will love your experience with Austin Face & Body. To schedule a consultation, please call 512-559-3544 or contact us online.