Optimizing hair growth through cutting edge, AI-powered technology
Hair restoration with ARTAS provides natural, attractive results customized to your unique appearance and wishes. ARTAS leaves behind no linear scars and can be performed exponentially faster than manual FUE methods. With ARTAS, you can finally combat thinning hair, a receding hairline, or baldness and regain the confidence and magnetism of youth.
What is ARTAS?
Using state-of-the-art AI (Artificial Intelligence) technology in the form of a robotic arm, the ARTAS hair restoration system is among the most advanced solutions for hair loss on the market today. It safely and non-invasively delivers precision-based hair transplantation without leaving behind any linear scarring. The ARTAS system is able to accurately analyze the best hair grafts in the donor region and then identify the best placement for them in the recipient zone, achieving authentic-looking, natural results that are seamlessly integrated with your scalp.
How does ARTAS work?
The first step in the ARTAS robotic hair transplant process uses 3D technology to create a personalized road map for restoring your hairline. During the second step, ARTAS uses algorithms derived from artificial intelligence, stereoscopic vision, and a cutting-edge robotic arm to flawlessly select high-quality donor hairs from the harvest area. These elite follicles are then removed in such a way that the donor area retains a natural, untouched look with no linear scars.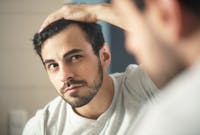 What are the benefits of ARTAS?
Natural-looking results – Visibly thicker, healthier hairs begin growing about six months after transplantation and continue to flourish over time.
No linear scarring – No staples, scalpels or sutures are used during the procedure, so there are no resultant linear scars.
Fast, efficient treatment – ARTAS's robotic arm can perform follicular unit extraction at exponentially faster rates than its manual counterpart, speeding up your treatment time without sacrificing accuracy.
Who is a good candidate for ARTAS?
Regardless of the cause of your hair loss, Austin Face & Body can help you to regain your self-esteem and to once again enjoy looking at yourself in the mirror. The ARTAS system provides fast, precise hair transplantation using advanced robotic technology. By excluding human error, ARTAS is able to safely and intuitively rejuvenate your appearance.
Your candidacy for ARTAS will be assessed during your private consultation in Austin with our team after a thorough evaluation of your scalp and a frank discussion of your cosmetic goals. Clients should be healthy, and they should have realistic expectations for how they will look after treatment.
What can I expect after ARTAS?
After your procedure, you'll need to get a ride home. Most clients take only a few Tylenol in terms of pain management. You'll be able to return to your regular schedule within about 2 days.
Some clients may experience dryness, redness, or swelling after ARTAS. These side effects clear up in about 1 week. After 10 days, crusting will have subsided, at which point your hair transplants will be undetectable and permanently rooted in the scalp. You will need to keep the newly transferred hair follicles hydrated by using a special saline solution that we will provide.
Using state-of-the-art AI (Artificial Intelligence) technology in the form of a robotic arm, the ARTAS hair restoration system is among the most advanced solutions for hair loss on the market today.
Why choose Austin Face & Body?
Dr. Sean Paul, MD founded Austin Face & Body with the intention of bringing together the brightest minds in cosmetic science to offer a level of care that would exceed expectations for excellence. Austin Face & Body provides cutting-edge solutions to a wide range of aesthetic concerns, delivering highly customized and nuanced results. An emphasis is placed on safety and integrity. We will never suggest a procedure that isn't genuinely in your best interest. From our world-class, state-of-the-art facility to the compassion, skill, and expertise of every member of our team, Austin Face & Body is a premier destination for anyone seeking head-to-toe renewal.