Meet Dr. Schneider
Dr. Chris Schneider is a plastic and reconstructive surgeon, who also specializes in microsurgery. He is a native Texan who is proud to return home to the Lone Star State after nearly a decade of intense surgical training. Dr. Schneider offers a wide range of both cosmetic and reconstructive surgery of the face, body, and breast. He believes that all procedures, whether reconstructive or cosmetic, should be approached with a thoughtful aesthetic objective. During his residency at Louisiana State University, he devoted a significant amount of time to mastering perforator flaps (DIEPs, PAPs, etc.) for autologous breast reconstruction. Dr. Schneider's patient-centered approach provides a welcoming environment to design each patient's unique surgical plan. His artistic nature and precise surgical techniques allow him to deliver safe and excellent aesthetic results.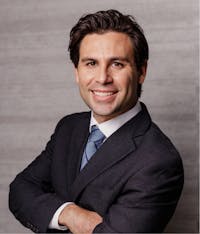 Education & Training
Dr. Schneider graduated summa cum laude from Johns Hopkins University in Baltimore, Maryland. At Hopkins, he received his Bachelor of Arts degree in Public Health, with a special focus on population and global health studies. He was fortunate to study at the world-renowned Bloomberg School of Public Health and developed an appreciation for making the community healthier as a whole. Dr. Schneider also had the opportunity to shadow multiple surgeons at the famous Johns Hopkins Hospital, which inspired him to pursue a career in medicine. He returned home to attend the Texas A&M University College of Medicine on a very generous scholarship. He matched into his top general surgery residency choice at the University of Texas Health Science Center at Houston. While in Houston, he quickly developed a strong interest in the field of plastic and reconstructive surgery. After his second year of general surgery residency, he was awarded an NIH-funded grant to work in a cellular therapeutics labs with a concentration on plastic surgery applications. During this year, he was selected for an accelerated plastic surgery training pathway at the Louisiana State University Health Science Center in New Orleans. During his time at LSU, he was trained by pioneers in the field of microsurgery, such as Dr. Bob Allen who performed the first DIEP flap for breast reconstruction. He also developed a sincere interest in aesthetic face, breast, and body surgery and worked with internationally recognized cosmetic plastic surgeons.
College: Johns Hopkins University: Bachelor of Arts, Public Health Studies, Summa Cum Laude
Medical School: Texas A&M University College of Medicine: Doctor of Medicine
Internship: University of Texas Health Science Center at Houston, General Surgery
Residency: University of Texas Health Science Center at Houston, General Surgery
Research Fellowship: University of Texas Health Science Center at Houston, Regenerative Medicine Laboratory
Residency: Louisiana State University Health Science Center, Plastic & Reconstructive Surgery
Personal
Dr. Schneider was born and raised in Texas. He married his high school sweetheart, Brooklyn, who is a plastic surgery physician assistant. They have three young children: Jackson, Hudson, and Sutton. Dr. Schneider played soccer in college and now enjoys playing golf. He has passed down his love for sports to his children and looks forward to coaching them as they grow up. He also enjoys running marathons and completed the 2019 Austin Marathon.
Professional Societies
American Society of Plastic Surgeons
American Society for Aesthetic Plastic Surgery

American Society for Reconstructive Microsurgery
Southeastern Society of Plastic and Reconstructive Surgeons
Louisiana Society of Plastic Surgeons
American Medical Association

Texas Medical Association
Procedures
Cosmetic
Face
Breast
Breast augmentation & lift

Breast revision

Implant removal, including en bloc for textured implants
Body
Women's Health
Male
Muscular augmentation with fat grafting
Abdominal etching
Reconstruction
Breast
Hybrid reconstruction: Flap + implants
Autologous flap reconstruction
DIEP
PAP
TDAP
SGAP/IGAP
LTP
ALT
Skin
Hand & Microsurgery
Non-Surgical