Some 35 million men and 21 women in the United States experience unwanted hair loss. Yet despite the widespread nature of the condition and the large number of people affected, experiencing it personally can be unnerving and cause reduced self-confidence and esteem.
With Neograft hair restoration at Austin Face & Body, we can reverse unwanted hair loss and help you regain your self and sexual confidence in a treatment that is only minimally invasive, requires little recovery downtime, and leaves no permanent linear scarring.
Why am I Losing Hair?
Hair loss can occur due to a very wide variety of conditions. One's age, their nationality, sex, genetic makeup, genearl overall health and diey, and certain traumas can excaerbate the condition. The result is early onset hair loss that lowers esteem and increases self-consciousness. Hair thinning and hair loss refers to any condition in which the degree of hair loss doesn't match one's age. All of us lose hair at times. Some of us lose more than is healthy or normal.
Total Hair Restoration at Austin Face & Body
At Austin Face & Body, we correct receding hairlines, thinning hair, and bald spots with NeoGraft's proprietary automated hair restoration system. The NeoGraft procedure is a minimally invasive and relatively minor surgical procedure. It produces permanent, natural results, and its recovery period is easily managed by patients.
Our patients routinely tell us the entire process was very bearable, well worth it, and was in fact life changing.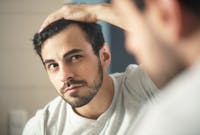 About NeoGraft
Of all existing hair restoration options, NeoGraft is one of the most advanced and successful treatment systems available. Guided by our hair restoration experts, the semi-automated system harvests many hundreds of healthy hairs from selected donor sites on the head, isolates and preserves those follicles, and then implants them into areas of the hair that are thinning, receding, or have gone bald entirely.
NeoGraft Benefits
Boasts a 94 percent patient satisfaction rate
Leaves no visible scarring
Effective for both men and women
Works on fine or coarse, straight or curly hair types
No scalpel is used and no staples or sutures are required
Greatly improves one's self image and confidence
The procedure is minimally invasive
Requires minimal recovery downtime
Rapid return to routine social and professional activities
Donor site typically heals in one week
Generally capable of restoring a full and healthy head of hair
No strip harvesting is done and no linear incisions are made
Uses your own hair to replenish and restore other areas in need
Treatment Overview: What To Expect
A healthy donor site or sites are selected from the back of the head.
A topical anesthetic is applied to these sites, making the procedure as pain-free as possible.
When the area is numb, the NeoGraft handpiece is used to extract as many healthy hair follicles as are required.
These live follicles are extracted as-is, one by one, and are preserved for re-implantation.
The treatment site is prepared, with markings drawing out where hairlines are to begin and end so the treatment looks natural.
The previously extracted follicles are implanted at the treatment site in a manner that will look perfectly natural as they grow.
Recovery begins.
Over time, hair in both the donor and recipient sites grows, leaving you a full head of hair that looks, feels, and is entirely natural.
What NeoGraft treats
NeoGraft is a suitable and effective treatment for thinning hair and receding hairlines, and male pattern or other baldness. Depending on the size and state of the affected area, additional treatment sessions may be required. We want to help you meet or exceed your hair restoration goals, and to have realistic expectations for your treatment. In a personal consultation, our experts will let you know exactly what to expect for the best possible results.
Is NeoGraft for me?
You are likely a candidate for NeoGraft hair restoration if:
You're currently experiencing bald or thinning spots
You have enough hair in donor sites (the back or, rarely, the side of the head)
You are suffering from androgenetic alopecia (male pattern baldness)
Your hair loss is due to accidents, trauma, or age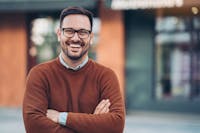 Preparing for treatment
Cease smoking and/or taking blood thinning medications at least a week prior to treatment. Stop any at-home hair treatments (routine hair care is okay.) If your hair is a very light color, we may dye it beforehand but don't do so on your own at this time.
Recovery
NeoGraft is done under local anesthesia. No linear cuts or incisions are made and stitches are not required. Most patients can return to work the day after treatment. Non-narcotic pain medication may be required. The donor site will have been shaved (but not left bald) and you may have redness or swelling there that lasts up to days, but usually subsides within 2 or 3.
Providers who perform NeoGraft® Hair Restoration at Austin Face & Body