The goal of nasal reconstruction is to restore your nose's ideal form or function. This is done for a number of reasons, including abnormalities that arise due to congenital defects, trauma to the nose, skin cancer treatment, and prior surgeries.
Nasal reconstruction: Why is this surgery performed?
Soft tissue injury. If your skin or soft tissue was damaged after a trauma or prior procedure, restoration surgery can help. The injured or missing skin can be matched in tone and texture, and we will hide the incisions within the skin's natural creases and contours.
Fractured nasal bones. In severe cases, trauma can result in fractured nasal bones that impair the function of your nose, as well as its appearance. When this occurs, a special restoration procedure can restore your breathing and heal the fracture.
Skin cancer treatment. The nose is a common location for skin cancer. Once the lesion has been removed, it can leave behind a nasal deformity. Because there's a lack of redundant skin in the area, reconstructive techniques must be used to restore form and function.
Congenital deformity. Patients born with a cleft lip sometimes feature complex nasal deformities that can affect the nasal tip, septum, and columella. When this occurs, the cleft lip will be repaired first, followed by nasal reconstruction once the nose has stopped growing.
The benefits of nasal reconstruction
Correct damage after a nasal fracture or injury
Restore the size, shape, and appearance of the nose
Repair a deviated septum and restore optimal nasal function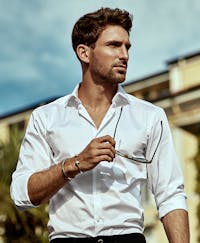 Austin Face & Body: A trusted name in complex reconstructions
Nasal reconstruction is a delicate plastic surgery that demands a high level of expertise. The nose is a complex structure – composed of cartilage, mucosa, soft tissue, and skin. Your surgeon must have a nuanced understanding of facial anatomy, along with meticulous technical skills, to restore the nose and re-establish its important functions.
In addition, the nose is a central feature on the face – making nose surgery a high-risk, high-reward procedure. When it's done correctly, you'll emerge with a nose that looks, feels, and functions even better than it did before your injury or cancer. At Austin Face & Body, our team of innovators is well-versed in the intricacies of this procedure and has successfully performed this surgery for countless patients.
The procedure:What to expect
At Austin Face & Body, we perform nasal reconstruction under general anesthesia, using an "open" or "closed" approach, depending on your needs. With the "open" approach, the incision will be placed externally, along the skin that separates your nostrils. Alternatively, the incisions are completely hidden inside the nose with the "closed" approach.
Once the cuts are made, we have a number of techniques at our disposal, depending on the extent of your reconstruction. They include:
Linear closure. Our plastic surgeons often use linear closure to correct small defects after Mohs surgery for skin cancer. It involves pulling the two sides of a wound together into a straight line and closing the defect with sutures.
Local flaps. For small defects that don't qualify for a linear closure, a flap of skin may be taken from a nearby area. This is less invasive than a full skin graft because it's smaller.
Skin graft. If a local flap would distort your anatomy or is not sufficient to cover a large defect, we may need to perform a skin graft. This involves taking tissue from another region of the body.
Forehead flap. The forehead features an abundance of tissue that can be relocated to the nose. If the defect is too large for a standard skin graft, the necessary tissue can be taken from the forehead and may be combined with cartilage from the ear. This is an extensive approach that often results in a very natural outcome.
Throughout the surgical process, we will take special care to protect or improve your breathing function, as well as preserve the underlying structure of your nose by avoiding any damage to the surrounding areas. This not only ensures an easier recovery period, but also safer, and more predictable aesthetic results.
Recovery
You can expect to stay home from sedentary work for one week and avoid strenuous activity for two weeks. Mild swelling may persist for months – particularly on the nasal tip. In about one year, the results of your nasal reconstruction will be considered final.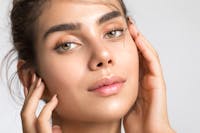 Schedule a consultation today
If you're in need of a nasal reconstruction procedure, please contact Austin Face & Body today and schedule a consultation.