As a highly skilled surgeon, Dr. Nassif has earned a reputation in reconstructive surgery for the face and nose. He is sought after by patients from around the world for his specialty in revision and ethnic rhinoplasty, and is equally recognized as a leading expert in aging face surgery. Using precise techniques developed through years of experience, Dr. Nassif skillfully conceals incisions through minimally invasive procedures that reduce the evidence of scars. As a plastic surgery expert, Dr. Nassif has been featured as a guest on such television talk shows as Dr. Oz and The Doctors and in countless print publications, from USA Today to The Wall Street Journal.
Dr. Paul Nassif
One of the best-known and most trusted plastic surgeons in the world, Paul Nassif, M.D., F.A.C.S. is recognized for his pioneering techniques as a board certified facial plastic and reconstructive surgeon based in Beverly Hills, California. Creator of the popular Nassif MD skincare brand, he also brings his deep knowledge and engaging personality to television audiences as one of the stars of the E! Entertainment hit show Botched and its spin-off, Botched by Nature.
Dr. Nassif just wrapped the fifth season of Botched alongside Dr. Terry Dubrow. Together they took on some of the most complex revision procedures in the world. The show's success also prompted a second series, Botched by Nature, which recently concluded its first season following Drs. Nassif and Dubrow as they travel the country to improve the lives of patients afflicted by traumatic incidents or genetics. In the realm of reality television, Dr. Nassif has also been featured on the E! series Dr. 90210 and Hollywood Medium, as well as the first three seasons of Bravo's Real Housewives of Beverly Hills.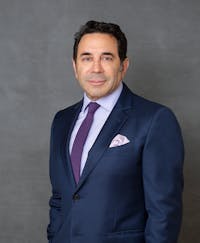 Dr. Nassif's Skincare Brand
Inspired to develop a product line with highly active ingredients that provide the skin with a youthful radiance, Dr. Nassif created the Nassif MD skincare brand, Nassif MD Bio-Clock Dermaceuticals, which is currently available via the Home Shopping Network and other online retailers.
This line was designed to specifically address aging. Harnessing advanced technology, Nassif MD Bio-Clock Dermaceuticals targets the main causes of aging. It reduces fine lines and wrinkles, promotes hydration, moisturizes the skin, and boosts collagen levels.